In America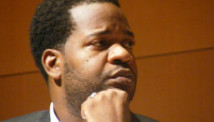 Editor's Note:James Braxton Peterson is the Director of Africana Studies and an associate professor of English at Lehigh University. He is also the founder of Hip Hop Scholars, LLC, an association of Hip Hop generational scholars dedicated to researching and developing the cultural and educational potential of Hip Hop, urban and youth cultures. You can follow him on Twitter @DrJamesPeterson.
By James Braxton Peterson, Special to CNN
(CNN) — I don't think that anyone would consider me a fan of Beyonce's music. Any of my students will tell you that generally speaking, R&B is not my musical genre of choice.
That said, I feel compelled to speak to some of the unspoken issues regarding university courses revolving around prominent pop cultural figures. There has been a bevy of media coverage on this kind of course, most recently directed towards Kevin Allred's "Politicizing Beyonce …" course in Rutgers…
View original post 951 more words